Ez Sleep to provide sleep apnea screening, home testing and diagnosis to former NFL players in conjunction with Pro Player Health Alliance.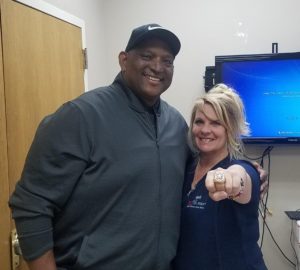 THOUSAND OAKS, Calif., Oct. 11, 2018 /PRNewswire/ — Ez Sleep Technologies, a company focused on diagnosing obstructive sleep apnea through providing innovative screening and diagnostics, has entered into an exclusive home sleep testing partnership with the Pro Player Health Alliance (PPHA), a provider for National Football League Players Association's Professional Athletes Foundation (PAF) Sleep Apnea Research Program.
Screening and testing of former players is the first step in treating their sleep apnea, which is highly prevalent in this segment of the population.  Ez Sleep will participate in "Tackle Sleep Apnea" wellness events, overseen by PPHA, located in NFL team cities, and at the 2019 Pro Bowl and Super Bowl at which former NFL players receive extensive research-driven health evaluations through the HOPE Program by the Living Heart Foundation, a nonprofit organization (Read more about this program on NFLPA.com search PAF). Through a sleep screening assessment, those at risk will conduct an at-home sleep study performed by Ez Sleep to determine if they have sleep apnea. For former players who test positive, a referral by Ez Sleep to a qualified network dentist is arranged to provide oral appliance therapy when clinically appropriate.
"We are excited to collaborate with Dave Gergen and the PPHA partners to tackle sleep apnea," says Elizabeth Tietjen, COO of Ez Sleep. "This will have a huge impact on players' quality of life and even save lives." A study of 167 players by American College of Cardiology resulted in an astonishing 60% suffered 18+ apneic events per hour. Left untreated, sleep apnea can lead to hypertension, diabetes, excessive daytime sleepiness, mood disorders, cardiac issues, risk of stroke and more."
Keith Woods, CEO of Ez Sleep affirms, "Ez Sleep is thrilled to be to be part of this multi-disciplinary approach to care. We look forward to partnering with the PPHA to raise awareness and dedicate Ez Sleep's streamlined process to increase access to care to athletes and former players."
Dave Gergen, CEO of PPHA says, "Partnering with Ez Sleep's experienced team helps ensure our screening, testing and coordination of treatment process will be executed flawlessly."
Ez Sleep patient Derek Kennard, former NFL offensive lineman for Cowboys, Cardinals and Saints, says, "The ability to do the testing for sleep apnea in your home is a game changer. For me personally, I was not able to go into a sleep lab and get enough time sleeping for accurate data to diagnose my sleep apnea. This collaboration with Ez sleep is going to help the players take that first step to getting treated and possibly saving their lives like it did mine."
ABOUT EZ SLEEP TECHNOLOGIES
Ez Sleep, based in Thousand Oaks, CA, is an innovative healthcare and technologies company that provides products and services to diagnose and treat obstructive sleep apnea. Through the Ez Sleep System and its partnerships, Dentists, MDs and Healthcare Organizations utilize an integrated platform for an end-to-end solution, from screening and testing to treatment and efficacy.
For more information visit http://ezsleeptest.com
ABOUT THE PRO PLAYER ALLIANCE
Pro Player Health Alliance (PPHA) is an organization dedicated to helping former NFL players by providing testing and treatment options for those who suffer from Sleep Apnea. Since its launch by Dave Gergen, CEO of Gergen Orthodontics lab, hundreds of players have been treated through the "Tackle Sleep Apnea " program. The PPHA is dedicated to integrating education and raising awareness through fun, memorable events.
For more information visit https://proplayersleep.org
View the original press release on PR Newswire, click here.
Media Contact: 
Elizabeth Tietjen
888 240.7735
media@ezsleeptest.com
SOURCE Ez Sleep Technologies
Related Links