Introducing the Apnea Risk Evaluation System or ARES™. Comfortable, low-profile and high-tech, this wireless physiological recorder is ushering in a new era in in-home sleep testing.
Engineered to integrate physiological data acquired in-home with clinical history and anthropomorphic data to determine the presence and severity of obstructive sleep apnea (OSA), ARES™ is FDA approved and ISO 13485 certified for Europe and Canada.
A truly next-generation device, ARES™ is worn on the forehead and stores up to three nights of nocturnal data. Comfortable and designed to be worn in all sleep positions, ARES™ was created to be worn at home, where it's easier to gather an accurate profile of the patient's breathing and sleep. Convenient audio and visual indicators let the patient know when ARES™ needs adjustment, increasing reliability of data capture.
Device
Ares™  (The Apnea Risk Evaluation System)
Manufacturer
Watermark Medical
Specifications
Type III, 10 Channels, AHI Compliant, FDA Approved
Ez Sleep Test­­ Technology
The Apnea Risk Evaluation System (ARES™), Model 610 is indicated for use in the diagnostic evaluation by a physician of adult patients with possible sleep apnea. Our Home Sleep Test Device can record and score your respiratory events during sleep (e.g., apneas, hypopneas, mixed apneas and flow limiting events). The device is designed for prescription use in home diagnosis of adults with possible sleep‐related breathing disorders.
Single forehead device worn without wires

Lightweight and comfortable

Covered by most major insurance companies

Sleep testing done at the convenience of patient's home

FDA Approved

AHI Compliant

Type III, 10 Channels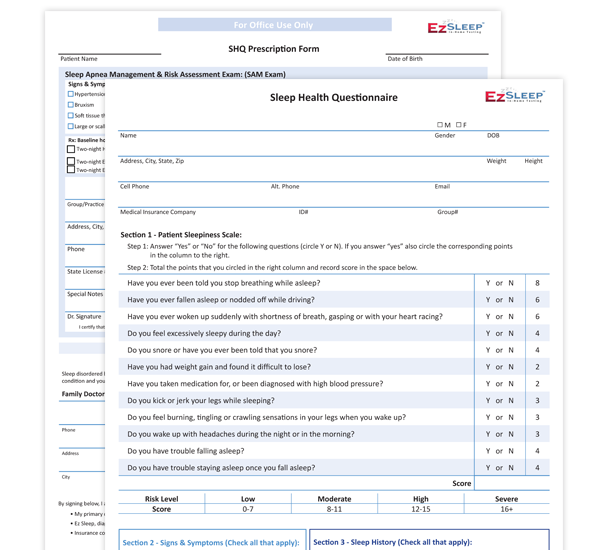 How do I order a home sleep test?
Want to order an in home sleep test with Ez Sleep?
Click on the button below for a simple 3-Step how-to!